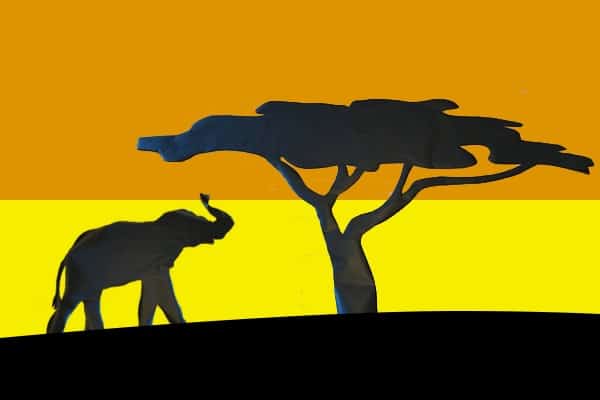 Simple VBS Decoration Tips from a Decorations Coordinator
I'm excited to welcome Mindy Dwyer to The Best VBS today as she shares some tips and ideas for creating large VBS decorations.
She has gone through the hard steps of troubleshooting the whole process of creating silhouettes to make a sunset scene to cover a large area. Glean her wisdom and make your job a little easier as you create large decorations.
[Just a note, I have added a few of my thoughts or other ideas. You can find them in brackets.]
This post may contain affiliate links. That means if you click and buy, I may receive a small commission. Please see my full disclosure policy for details.
---
If you are like me, you love to immerse our VBS kids in whatever the theme is. This year, many of us are looking to cover our walls with a sunset African scene. With just three colors — yellow, orange, and black — we can create our own piece of artwork. I was particularly excited about this method because I don't consider myself an artist – but tracing I can do!
This idea is quite simple and generally easy to accomplish. Cover the bottom half of your wall with yellow and the top half in orange using either butcher paper or plastic table rolls. Then cut black butcher paper into shapes (animals and plants of Africa) and place them on the yellow and orange. These will look like silhouettes against a sunset sky.
Simple, inexpensive, and easy VBS decorations.
Initially, I thought I would simply trace and cut some pictures without much thought. Easy. But as I began I realized there were several things I had not considered. So I'd like to share things you may want to consider before you jump in.
Create a Plan for your Silhouette Shapes
It would seem easy to just throw up the orange and the yellow, cut out some black silhouettes and place them on the wall. However, it will be helpful to know how many you want, how you are going to arrange them, and what size you'll need.
Your plan doesn't have to be perfect, but a general idea will make the process easier. I felt much more confident when I started tracing because I had a plan.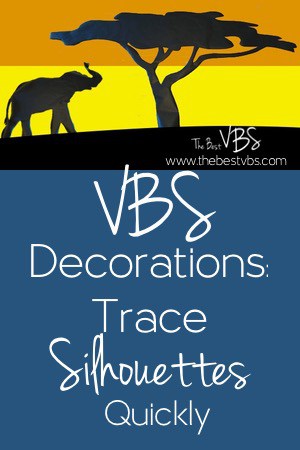 Before you start, you need clipart which is easy to find. A Google search will bring up thousands of images. For example, search for "safari silhouette clip art". You'll have lots to choose from. Of course, you can also search for the specific animal you want in order to bring up more pictures.
[Please be sure you are using your images legally. Not all images on Google are free for use as you like, in fact, most are not. You can find a few silhouettes of jungle animals here at Pixabay]
I found I wanted to visualize the entire project. Using Power Point (you can use any drawing program), I turned on the grid lines (in PPT this is under the "View" menu). I assigned a value of 2 feet x 2 feet for each square in the grid and then created a canvas equivalent to the size of the wall I was going to cover. Then I resized and arranged the clipart until I was happy with the layout.
Three things that were important to me. You can decide if any are important to you.
Use a single sheet of paper for each animal (i.e. I did not want to piece an animal together). This meant that one cutout could not exceed the width (4 feet) of my paper. For animals like an elephant or lion, this meant its height could not exceed 4 feet. For a giraffe, I limited its width to 4 feet so I could get a taller giraffe.
Maximize the size of most animals so I would cover more of the wall. I didn't want a tiny little scene on an almost 8 foot wall.
Keep things at least somewhat relative in size.
So now I had a decision to make. If in real life an elephant is two-three times taller than a lion, how would a four foot lion and a four foot elephant reside in the same scene?
I took two approaches. First, since I have a very long wall, I decided to place them far away from each other. Secondly, I decided to simply use perspective by placing my elephant higher up on the wall to make it appear to be further away. So now I can have both animals be four feet tall.
Of course, you could simply make smaller animals smaller or larger animals span two pieces of paper. Or perhaps relative size isn't important to you.
It's up to you, but make sure you decide what you want to do ahead of time.
Once you have a picture you like, determine what size each animal is (measuring against the grid lines). Save the picture and use later to help you place the silhouettes on the wall.
---
Tip: You may also want to print it out and cross off each element as you trace it out to remind you what you have already done.
---
Decide on your Projector for making your Large Decorations
Of course, you need some type of projector. What you use will depend on what you have available to you. Here are some things to consider.
Computer and Projector for tracing Silhouettes
The best option for this setup would be a projector set on a table that can be moved around to get the image size you desire. You also need to have room to move.
You can also do resizing on the computer, but that can have limits.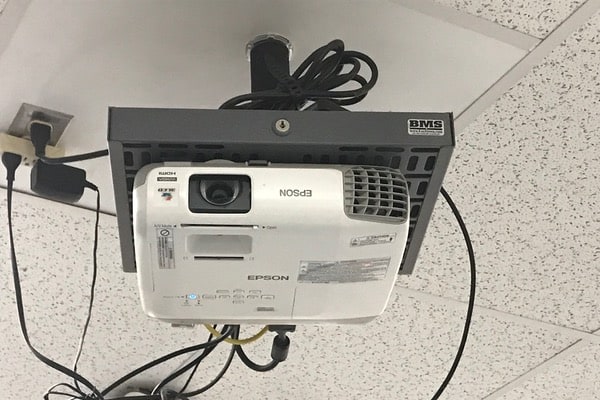 If you use a mounted projector, you need to be sure there is a wall behind the screen that is suitable for tracing – plenty of flat space, no pictures hanging or ledges that will make it difficult to trace on. The image below shows how it would be difficult to trace using this projector because of the ledge and how the whiteboard is set back. With a mounted projector, you won't be able to move the projector so make sure you are able to project the image size you want.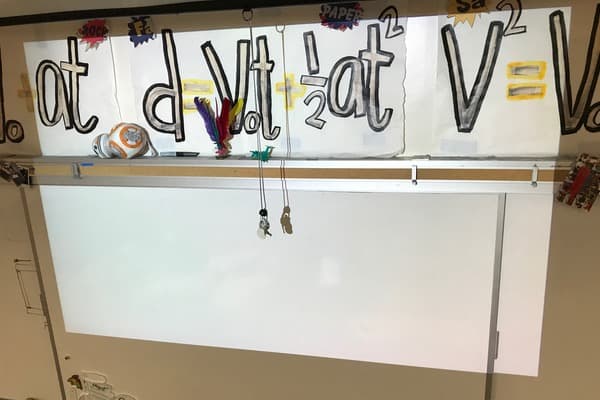 Overhead Projector and Transparencies for creating VBS Decorations
If using an overhead projector, you'll need to copy your images onto transparencies. You could trace a copy onto a transparency, but my attempt at this resulted in a very poor tracing. I found that detail was lost and I also had a hard time seeing the outline on the black paper.
I highly recommend printing the image onto transparencies for better clarity. If you follow this recommendation, you won't be able to use cheaper transparency options like using a page protector.
You only need a few sheets. If you have them and they are safe for your printer you can print your own. I found myself with no transparencies and no desire to spend a fortune on a box when I only needed a few.
My local print shop prints transparencies. It was very reasonable and easy. It was easy to upload my file online and then pick it up later. I recommend putting multiple images on a page and choosing black and white copies to save money.
An alternative to transparencies would be to print the image on paper, cut it out and place that on the overhead. I did this for one image that I had forgotten to include on my transparencies. It worked out because it was a simple image I could cut out. I believe a more detailed image would have lost detail.
[You may be able to borrow an overhead projector from your local library. Contact them to determine if you can remove it from their building to use at home or church. If not, explain your project and ask if they have a room available you can use.]
Trace your Images to go with your VBS Theme
Now we are ready to roll! Project the image onto the paper and resize the image to the desired size. To trace, use a silver permanent marker, white crayon, or chalk. When using a permanent marker, make sure it doesn't bleed through before using. Be careful not to smudge chalk if you choose to use it.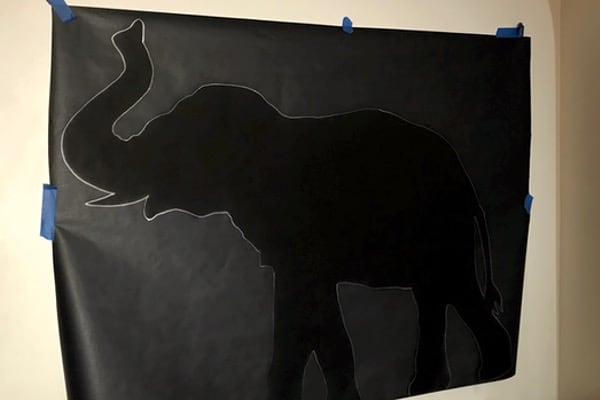 If the direction the animal faces is important to you (for parts of my scenes it was important to me as I wanted certain animals to face one another), then reverse the image before you trace.
---
Tip: If you make an error, you can cross out the line, and redraw the line because later when you cut the silhouette, any stray marks or errors will be hidden on the backside.
---
I also found it useful to have a white piece of paper nearby. Occasionally, I would need a little help seeing a line before tracing. I would just place the white paper over the image so I could see it better before tracing.
Because initially, I had not planned my project nor thought about what projector I was going to use, I wasted a lot of time with false starts. Once I overcame these issues and created a plan, I found it was quite easy for me to trace out over 25 silhouettes.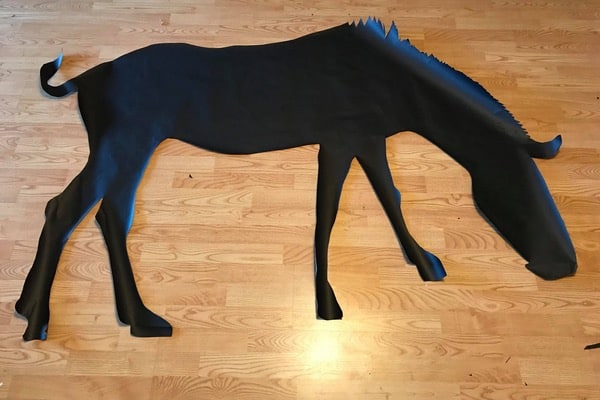 I'm hoping that some of the lessons I learned along the way will make it even easier for you to make these simple VBS decorations.
Good luck with your VBS and happy tracing!
[You could easily adapt this tutorial to fit any VBS theme such as super heroes for Hero Headquarters VBS or Hero Central Vacation Bible School. It would be great for Roar VBS or for Into the Wild VBS.
Or consider using these techniques for Journey off the Map or Submerged. Large VBS silhouettes make simple and easy decorations for many different Vacation Bible School themes.]
---
You may want to check out these articles full of helpful tips for Vacation Bible School Directors:
---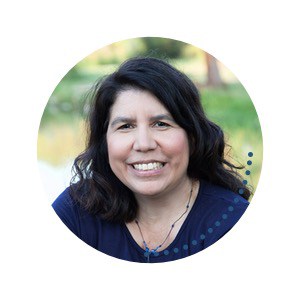 Mindy Dwyer
Mindy has been involved in VBS leadership for over 17 years. She is currently the VBS Decorations Coordinator and Webmaster at her church. Check out her VBS website for some great ideas.
When Mindy was asked what her favorite VBS memory was, she shared this:
"VBS was such a huge part of our lives for so many years so there are lots of good memories. Great memories of my family working together, but also great memories of the volunteers I worked with over the years. And of course the kids! One special memory that comes to mind happened more recently. I was recognized by a woman dropping off her niece. I did not know her, but she knew me. She was almost in tears when she told me how much she appreciated the years I was director and how special VBS was for her as a child. So much so, that she had to bring her niece to experience it. It was amazing to hear how much of an impact it had on her."