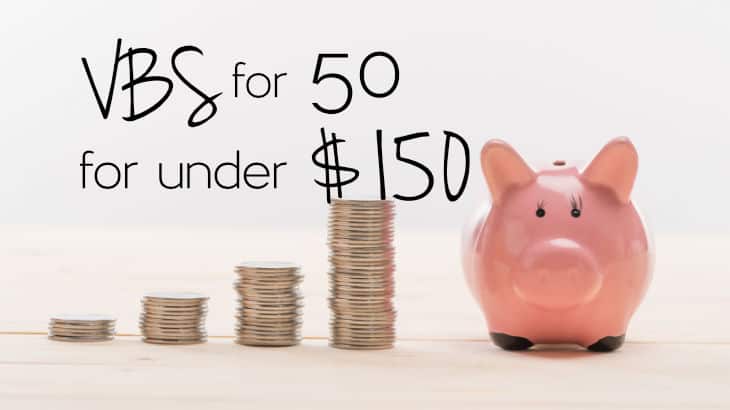 While it is super exciting to do VBS when you have a larger budget to spend, it is also very unrealistic for many churches.
But $150? Now that sounds like a dollar amount that many churches can afford. But is it realistic? And is it realistic without asking for a million and one donations from your already taxed members? And without doing crazy fundraising or soliciting from your community?
Absolutely.
Will your VBS look different from the "dream VBS" you have pictured in your head? Probably. But that is okay.
This may take a mindset shift for you. When I am working on VBS budget things, I often think about the overall budget but don't always break it down and think it differently.
How much can you spend per child? If you are doing 50 kids for $150, that figures out to $3 per kid. As you think through your crafts, curriculum, snacks and more, keep this figure in mind.
Vacation Bible School Curriculum
Borrow it! Ask a local church if they have some curriculum from past years you could borrow. I know our church is just storing curriculum from many previous years, unsure what to do with it. Many churches will give it to you, happy it is being used or will charge you shipping to get it there.
It goes without being said, you may not be able to be picky about what theme you use. BUT, be sure you are in agreement with the doctrine taught by the curriculum.
Free Vacation Bible School Curriculum
Another option would be to grab a free program such as this one from Trueway Kids. The wealth of activities provided in this Olympics themed VBS is incredible. The incredible people (translate – Jon Dyer) at Trueway Kids have also provided a soccer themed free VBS for you.
If you choose to use a free curriculum provided by Trueway Kids or others, if they have an area to donate for the use of their material, I would encourage you to consider doing that. Even $10 can make a huge difference to them. It is a wonderful ministry when people choose to give as they do. We can show them our appreciation through our donations.
As you are searching for curriculum, please keep in mind what extra supplies are needed for a particular curriculum. For example, Group's curriculum is notorious for needing unique supplies. You can probably modify the lessons and activities, but be aware you will need to take the time to do so.
Total: $20 or less.
Once you have your theme secured, you can begin to plan all the aspects of your Vacation Bible School!
Need help planning your VBS? I can help!
Need help pulling together all the details? Check out the VBS Planning Challenge! Plan out your entire Vacation Bible School to-do list in just one week! You will be better prepared for VBS than ever before.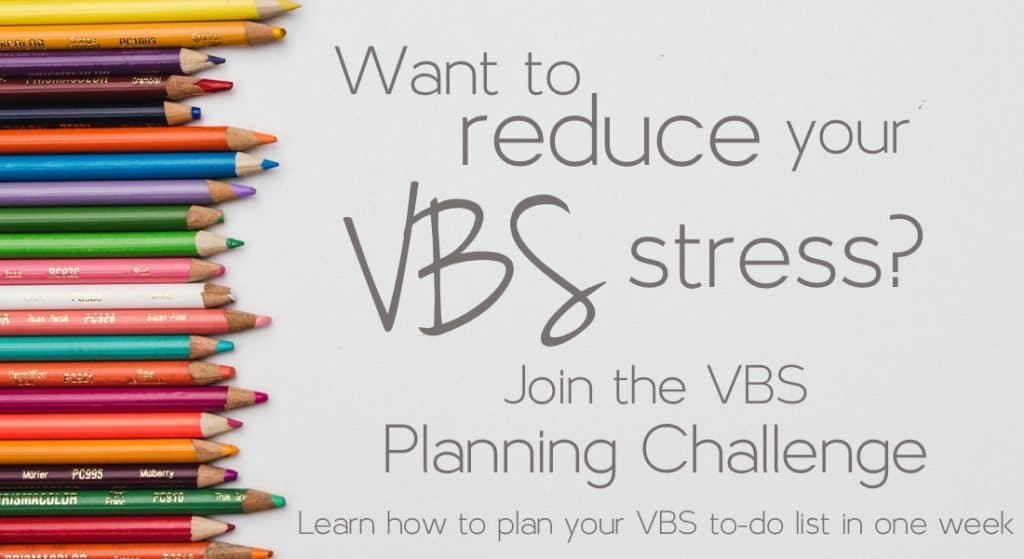 Crafts
I want to let you in on a little secret. [You don't have to do crafts at VBS].
But you can if you want to.
A good test to decide if crafts is a good choice for your VBS is evaluate the time you get with the kids. Are the crafts you are doing help point your kids to the gospel? Yes? Do it!
No? Consider replacing it with missions or extending your lesson time. Whatever you do, be sure you are using the time you have been given with each child to the best of your ability.
Vacation Bible School Crafts with Pinterest
Where is the best place to find crafts? Oh yes! Pinterest. Here are a few ideas when you are searching on Pinterest. Step out of the box when you are searching. Don't just search for "[Theme Name] crafts." You can try that, but if you are doing a wild west theme VBS, consider searching for the following terms:
Western crafts
wild west VBS crafts
Cheap wild west crafts
Using different qualifiers and ways to phrase when you are searching Pinterest will get you more specific results.
When you are searching on Pinterest, think about craft supplies you already have on hand. Do you have a stash of egg cartons at home? Or toilet paper tubes? Search for crafts using those particular items. This will help you save money on crafts.
You could even make t-shirts! If you have access to a surplus store where you can get t-shirts for about $1 per shirt, this would be a very viable option for you!
Total: Plan to spend less than $1.50 per kid on crafts for the week. $75 at the absolute most.
Name Tags
With 50 kids on your church premises, it is important you have a way to identify who is who, who is registered, and know that kids are where they are supposed to be.
Name tags are a necessary expense. But they don't have to be expensive.
You can get 50 lanyard and name badge holders for a very reasonable amount. Using this method, you can use the name tags all week as opposed to a daily sticky label.
You can download inserts that will fit a 2×3" badge holder from Deeper KidMin…for free! If you are using a theme from last year, grab a matching name tag insert or if you are using a different theme, just get the insert for events.
Plus, if you keep the lanyard and holder, you can reuse the name tags for next year. Know that you will not walk away with 50 name tags for next year as one will get lost or you will be compelled to throw one or two away because, well, kids.
Total: $15
Snack
This is one area where I would ask your congregation to provide donations. You can feed a lot of kids on some donated cookies or goldfish.
Do not feel that you have to provide 3-4 cookies per kid per day or that you need to feed the kids an entire meal.
You could easily ask your congregation to provide cookies. This number may sound large but finish the process. You would need 43 dozen cookies to feed each kid two cookies a day for a five day VBS.
That boils down to 21 people bringing two dozen cookies or just 14 people bringing three dozen cookies.
Say you don't want to feed your kids cookies the whole week because kids plus loads of sugar equals craziness.
You could ask for people to bring a large carton of goldfish, pretzels, fresh carrots, or other snack. Don't be afraid to think about snack differently.
You might be tempted to just skip snack altogether, and as long as you think though the consequences of that and are ready, go for it.
Snacks and Vacation Bible School Volunteers
Snack time provides a unique opportunity during your VBS. Kids will be seated and occupied, but the time is less structured than lesson and creates time for more informal conversation with the kids at your Vacation Bible School.
Having a snack time also creates volunteer opportunities for adults who aren't necessarily "kid people." You know the ones in your congregation who are happy to serve, but not so happy to be placed with a group of energetic kids.
Helping prep and serve snack creates a great space for them to be involved with VBS in a capacity where they are comfortable yet part of the excitement.
Also, kids can drink water. There is no need to spend more money on sugary drinks (this mama is speaking from experience with her own kids).
Do yourself a favor and cut the red dye and sugar from the drinks and watch how much more manageable the kids are at VBS.
Oh and water is free!
Total: Nothing – just the time to organize donations.
Delegation Opportunity
Pro-tip: Recruit someone else to manage this aspect of Vacation Bible School for you. Many people are totally capable of gathering cookie donations. And you might be surprised with what they are able to come up with if you empower and equip them to serve in this way.
Cups, Plates and Napkins (Oh my!)
Here is another expense you might not think about when planning your VBS budget. But if you are going to do snack, then you must have something to serve snack on and in.
If you are going to hold to the two cookies per kid plan from above, plates are an unnecessary expense. Two cookies work on a napkin just as well as a plate.
It would be very simple to place two cookies on a napkin and then place a napkin on top of those cookies. One for the cookies to sit on and one for the kids to use as an actual napkin.
Just teach the kids to hold their cookies with one hand on top and one on bottom and you won't have napkins flying all over the place.
So, two napkins per kid per day equals out to the same number of cookies – 516. But pad that number SIGNIFICANTLY. By at least 1000. There will always be spills and someone will always need another napkin. No need to be the napkin Nazi!
You can get 1200 napkins at wholesale stores for just over $11.
Cups are another necessity. You will have to decide if you are going to use small bathroom sized cups (Dixie cups) or if you are going to use a larger Styrofoam cup.
You can find 3 oz bathroom cups for about a penny per cup at wholesale stores. And again, because you don't want to be stringent with cups, get extras. This will run about $9.
Total: $20 on paper products for snacks
Vacation Bible School Budget at a Glance
Where are we at with our budget so far? Let's add it up!
Curriculum: $10 for shipping
Crafts: $75 (high estimate for your budget)
Name tags: $15
Snacks: Donations
Paper products: $20
Making your budget work
If we are sticking to this budget, that looks like $120 so far. Do you see a place where you would try to cut somethings out?
Do you know your church already has all of the paper products needed? Cut that out of your budget. What about the craft estimate? Is that too high for you? Reduce the dollar amount per kid or consider an alternate to crafts.
Our church decided to meld crafts and missions together last year. We did three days of missions and two days of crafts. It was a big hit with the kids and the volunteers. We will be doing the same again this year.
This is a great way to cut down your craft budget.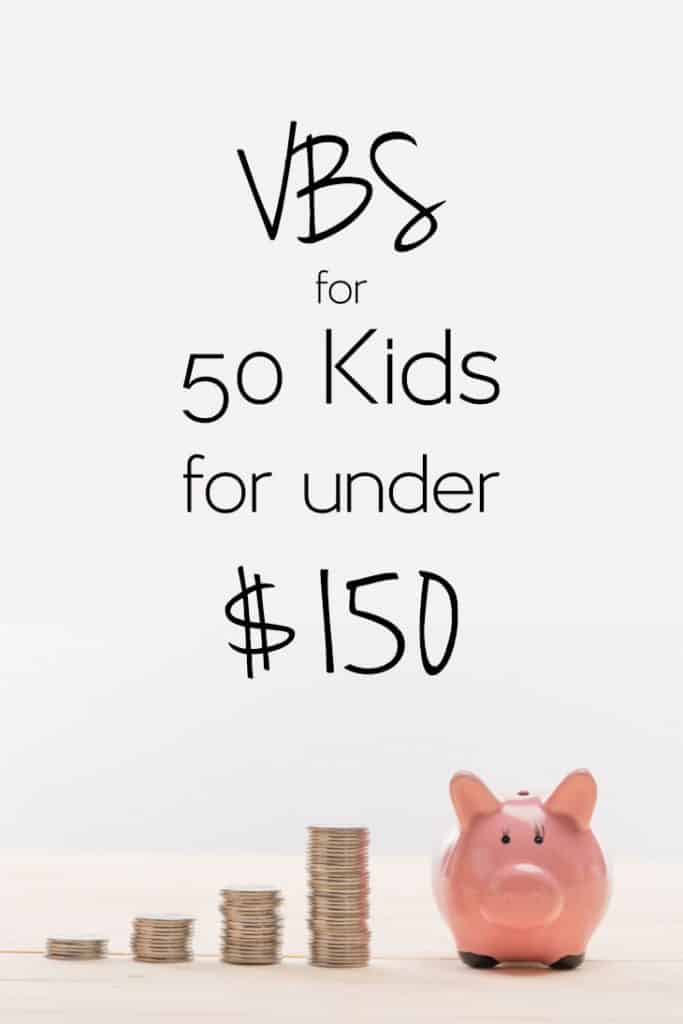 VBS Decorations on a budget
Decorations are this far down on the list because, really, it is where they belong. Sometimes we get so caught up in the huge decorations and forget they are not the central focus of VBS.
If you have kids who are well cared for and loved at VBS, they won't care if your decorations are made out of donated cardboard or if they are made out of highly styled foam board.
You will be amazed at what you can put together with a projector, cardboard and leftover paint from some previous painting projects.
Carpet tubes are also a great tool for creating decorations. You can check with your local company that lays floors and see if you can get several large tubes from them. They cut easily with a reciprocating saw or a sawzall – great opportunity for a handy Vacation Bible School volunteer.
Decor Budget Tip
For your decorations, I would spend some of your precious dollars on some kind of adhesive to make sure your decorations stay where you put them.
Whether you get command strips or hooks or Mavalus tape, or some hot glue and painters tape, this is a good use of your budget. It is so frustrating to piece together and put up decorations just to have them all on the ground when you get to church the next day.
Total: $15 or less
Music during Vacation Bible School
You have music your kids already love at church. Use this music to bring some familiarity to your VBS program. Kids love new songs, but they also love to sing songs they know and love.
My own kids listen to their favorites on repeat. Repetition is something God uses frequently to get our attention in the Bible. We can take this practice and apply it to the songs we sing with our kids.
Be sure the music you choose is conveying a message you want played on repeat. For me, I want my kids internalizing the songs that point them to Jesus.
Is what they are singing a song that rehearses what Jesus has done for them? Is it a song that is rich in theological truth? That is what I'm looking for in music for Vacation Bible School or any other time kids are singing corporately. (It's also my criteria for my favorite songs as well!)
You may also get some songs with the curriculum you are using. If it is included, choose two to three songs to introduce to your kids from it to mix in with your favorites from your children's ministry.
Being wise with music during VBS
However, I do want to mention that Youtube is not an option for sourcing your music. I know there are many, many videos on there that may be perfect for you, but Youtube's licensing doesn't cover showing their videos to a group. They're only for personal use.
The artists who create the music deserve to have their music used in a way that compensates them and is legal. And we as believers are called to honor that.
Check out this article for more information about using music legally.
Total: Free
Vacation Bible School Games
Games offer a great opportunity for kids to engage in a different way with adults who love and care about them. Many kids will relate well to playing actively, while others will relate better to sitting quietly. It is good to provide both activities to help engage kids in meaningful ways.
You do not need many elaborate supplies for games. You don't need to go buy the supplies suggested in a curriculum to make sure your games match your theme if your budget does not allow for this.
Determine purpose of Vacation Bible School Games
Consider what your purpose is for game time. Is it to reinforce the lesson? Are they doing games after the lesson time in the schedule? If so, can you alter the game so you use supplies you already have?
Is your purpose to allow the kids to have a time of high energy activity? This is also a good purpose for game time. Then, choose games where many kids are playing at once and there is little standing in line or waiting for a turn.
Often games like this require very few supplies and probably supplies you already have on hand. You don't have to do the classic relay races at VBS. These games often require unique supplies and they leave a bunch of kids standing around or sitting waiting for their turn. This is often where trouble starts with behavior.
Cost: Nothing
Prizes and VBS
I have moved away from prizes at Vacation Bible School, not because of budget, but because I'm not sure I like the competition. Now, I'm all for competition and I love winning, but as I think about the purpose of VBS, I'm not confident that a competition with prizes at VBS really helps us accomplish that purpose.
My purpose for VBS is to share the hope found only in Jesus with every kid who attends and to connect with families in our community in a relevant way.
Creating a competition for who can bring the most friends (the source of our last contest) is really more of a competition between the kids of our church and more than that, between the parents. Who is willing to pick up the most kids?
That doesn't serve our purpose. What about a competition of who can say the most verses? This also doesn't readily include visitors and quickly becomes a competition between our church kids.
We do still have an offering competition between the boys and girls, but there really isn't a prize at the end, aside from bragging rights.
At our family closing program, I do pass out something theme specific to all kids who attend and thank them for coming. I try to make sure I have enough for all the brothers and sisters of kids who were too old or too young to attend as well.
Last year, this looked like temporary tattoos. You can find many different themed tattoos for a very reasonable price.
Cost: $7
Candy at Vacation Bible School
I do like to have candy or something I can give my teachers and leaders to share with their kids. I love helping make them look big to the kids at VBS.
But candy everyday is not necessary nor is a full size candy bar for each kid. You can easily provide a small amount of candy for your volunteers to share with the kids in their care if you have money left in your budget.
But, candy is not a necessary part of VBS. If your budget doesn't allow for candy, do not spend time concerned you are not providing a great Vacation Bible School experience if you are unable to provide candy.
This goes for prizes as well. Those things are optional in a VBS.
Let's review our total VBS budget
If we take a look at the projected VBS budget, we see the following:
Curriculum: $10 for shipping
Crafts: $75 (high estimate for your budget)
Name tags: $15
Snacks: Donations
Paper products: $20
Decorations: $15
Music: Nothing
Games: Nothing
Prizes: $7
Candy: Only if you have money left
Total: $142
You can totally do VBS on a budget. You can do VBS for 50 kids for under $150.
As you can see, when you are willing to make sacrifices and think differently about VBS, no matter your budget size, you can still hold an impactful and meaningful Vacation Bible School.
You can have VBS on a budget.